Turtle Thumbprint Cookies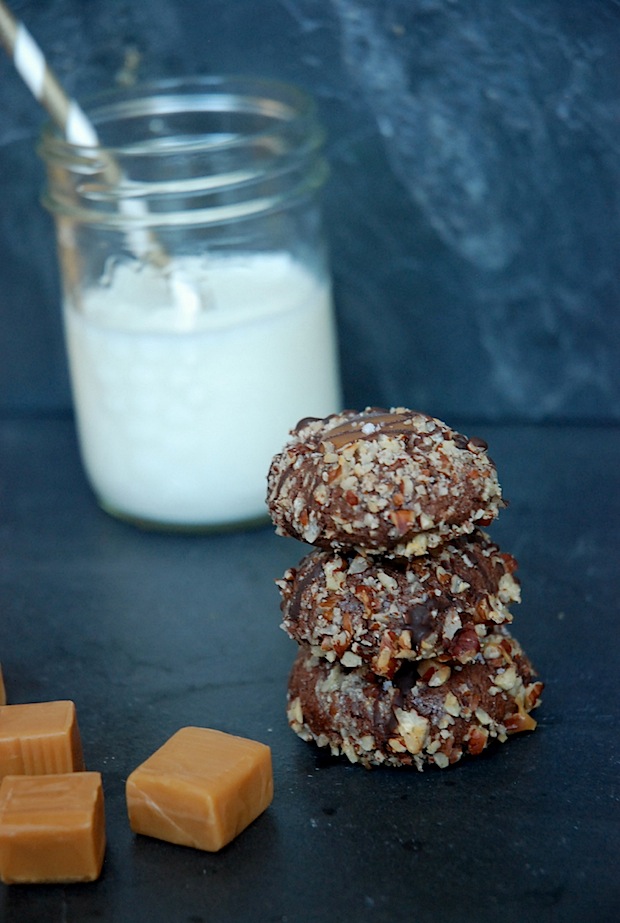 Author:
Tessa of Handle the Heat adapted from Dawn's Cookies
For the Cookies:
1 stick (4 ounces) unsalted butter, at room temperature
⅔ cup granulated sugar
1 large egg, separated
2 tablespoons milk
1 teaspoon vanilla extract
1 cup all-purpose flour
⅓ cup cocoa powder
¼ teaspoon salt
1 cup pecans, finely chopped
For the Caramel Thumbprint:
16 unwrapped caramel squares
3 tablespoons whipping cream
Fleur de sel, or other flaked sea salt, for sprinkling, optional
For the Chocolate Drizzle:
½ cup semi-sweet chocolate chips
1 teaspoon coconut oil or shortening
For the cookies:
In a large bowl, use an electric mixer to beat the butter and sugar on medium-high speed until well combined and fluffy. Add in the egg yolk, milk, and vanilla extract. Reserve the egg white in a separate container, cover, and refrigerate until ready to bake.
In a medium bowl whisk together the flour, cocoa powder, and salt. Gradually add the flour mixture to the butter mixture and beat just until combined. Cover the dough and refrigerate for 1 hour or overnight, or until the dough is chilled and firm.
Preheat the oven to 350°F. Line a baking sheet with a silicone baking mat or parchment paper.
Lightly beat the reserved egg white. Shape the dough into 1-inch balls. Dip each ball in the egg white, then roll in the pecans, pressing lightly to coat well. Place on the prepared baking sheet. Lightly press down the center of each ball with your thumb.
Bake for 12 to 13 minutes, or until set. Set the baking sheet on a cooling rack and let cool until just warm.
For the caramel:
While the cookies are baking, combine the caramel squares and cream in a small saucepan set over low heat. Cook, stirring often, until the caramels are melted and the mixture is smooth.
When the cookies are warm, press down the center of each cookie again with your thumb or the opposite end of a wooden spatula. Spoon about a ½ teaspoon of caramel into each thumbprint. Sprinkle the caramel with Fleur de sel to taste. Let cool completely.
For the chocolate drizzle:
In a small heat-safe bowl, heat the chocolate chips and oil in the microwave for 1 minute. Stir until smooth. Remove the chocolate to a small zip-top baggie and cut a small hole in one corner. Pipe the chocolate over the cookies. Let the chocolate set before serving or storing in an airtight container for up to 3 days.
I doubled the recipe to make enough for Christmas feasting...
Recipe by
Sugar Plum Sisters
at https://sugarplumsisters.com/2014/12/turtle-thumbprint-cookies/