Grilled Peaches with Vanilla Mascarpone and Salted Bourbon Caramel Sauce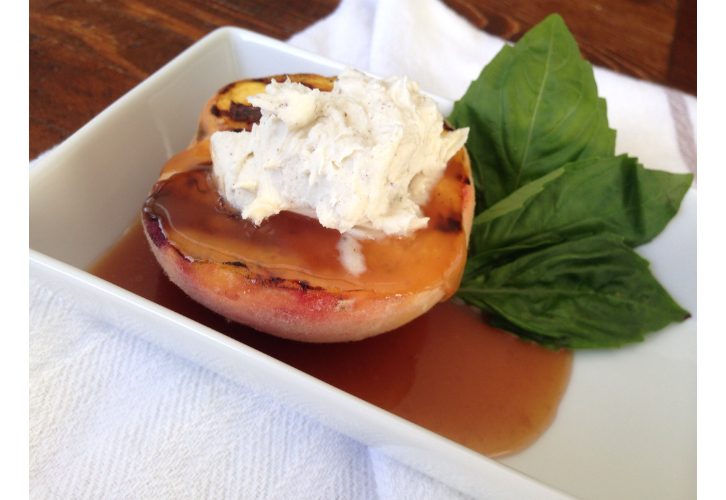 Author:
Adapted from In Sock Monkey Slippers
1 cup granulated sugar
¼ cup water
½ cup heavy cream
2 Tablespoons bourbon
½ teaspoon sea salt
8 ounces mascarpone cheese
1 vanilla bean or ½ teaspoon organic vanilla powder
3 or 4 freestone peaches
fleur de sel, optional
Preheat barbecue to medium high heat.
Pour sugar and water into a pot. Bring to a rapid simmer over medium heat and swirl (don't stir with a spoon) the mixture until the sugar is dissolved. Without stirring, let simmer until the color changes to a light brown, about 5 minutes, then turn off heat. Slowly stir in heavy cream until combined. Add bourbon and sea salt and stir until smooth. Set aside.
Split the vanilla bean down the centre with the the tip of a sharp knife. Split apart. Using the blade of the knife, scrape the beans out of the pod. In a bowl, stir to combine mascarpone and vanilla beans. Set aside.
Slice the peaches in half and discard the seeds. Place cut side down on the grill for 3 to 5 minutes until the peaches are warmed and grill marks have developed.
Place one or two halves of peaches on serving plates and spoon caramel sauce over them. Sprinkle with a pinch of fleur de sel (optional).
Fill the peaches with a large spoonful of the vanilla mascarpone.
Garnish with basil or mint. Enjoy!!
Recipe by
Sugar Plum Sisters
at https://sugarplumsisters.com/2014/08/grilled-peaches-with-vanilla-mascarpone-and-salted-bourbon-caramel-sauce/