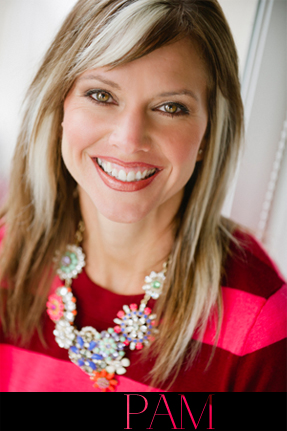 My name is Pam Ratzlaff.  I'm 40 years old, but who's counting??   I am a wife, mother of three, sister, daughter and friend…and to round it out…one pretty darn good shopper. I LOVE a good deal!!!
The method to my madness:
Hone in on what I need, ok, maybe just want..is there a difference?
RESEARCH! I will research and find the item of choice for the best possible price out there…I'm not above spending hours in Marshalls, TJ Maxx, Nordstrom Rack, Winners, Century 21…and so on and so on!
Make the purchase… and I always come out with high end goods for amazing steals.  My most recent score: $200 pair of Michael Kors pants for $20!  Not bad, hey?
I also LOVE great food…and here's an area where I'm willing to splurge!  Before travelling, I spend hours researching to find out the best eats in town, including the "off the beaten track" local faves.  I'm known to get asked for my "black book" of eateries frequently by jet-setting friends…and now I share it with the masses!
My background in interior design has lead me to hunt for deals to replicate looks that you often see on design shows and in magazines…for a fraction of the cost. Some may call me cheap, but why pay more than you have to?  What's better than a sweet deal?
Pam's Plum Picks
Jason, my hubby of 16 years, my greatest cheerleader and one of the best male shoppers I know!
My three kids, Berkeley (13), a foodie after my own heart, Dylan (11), a budding fashionista and Maguire (9), my second greatest cheerleader
Dance mom and hockey mom
My summer ride…1985 black Rabbit cabriolet
A mean Americano!
Tory Burch iPhone cases
Wrap bracelets, especially Chan Luu
J Crew necklaces
Rag and Bone booties….a crazy splurge, but SO comfortable & cute
Michael Kors handbags and watches…go big or go home!
New York City…I just can't get enough of it!